How new IT operating models stave off digital disruption

Credit: Pexels CC0/Thinkstock
Companies are facing a digital imperative to revamp business operations to better serve customers. To accommodate these shifts, CIOs are making sweeping organisational changes, adding new key roles, setting up innovation labs and tapping modern technologies to meet strategic mandates issued by their CEOs and boards.
Social, mobile, analytics and cloud (SMAC) forms the primary digital fuel for most IT organisations. But CIOs who are eager to stay atop trends are also testing artificial intelligence, machine learning, internet of things and blockchain. Collectively, such technologies have the potential to help companies transform their business processes.
The share of organisations committing to enterprise-wise digital strategies has climbed from 25 percent in 2015 to 41 percent in 2017, according to the Harvey Nash/KPMG CIO Survey 2017.
As Victor Fetter, chief digital officer of Vertiv, puts it: "The leading CIOs are finding the right spots in their organisation to make strategic hires to drive transformation. And they're creating an environment where it's OK to innovate and use that to see how it shapes the agenda. They're doing all of that in a space that's wrapped around the customer experience you want to deliver."
While CIOs know to avoid the trap of employing technology for technology's sake, the new tools must be harnessed as part of an "unbounded IT" operating model in which CIOs better align their IT departments with the business strategy, Deloitte says.
Jim Swanson, CIO of Monsanto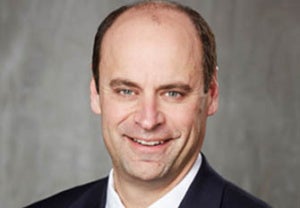 Jim Swanson, CIO of Monsanto. Credit: Monsanto
When Jim Swanson arrived at seed company Monsanto four years ago he saw "pockets of amazing digital data science technology" but no formal structure with which to harness it. He hosted hackathons, such as on a tool to improve data around seed returns, to make some of these innovations more transparent to the business. "Then we looked at how to scale that and we decided we had to pivot the organisation pretty aggressively," Swanson says.
With big data analytics playing an increasingly prevalent role in agriculture — an industry not known for technological change since its Industrial Age transformation — Swanson created a global product and engineering team overseeing platforms for data and analytics, operations and labs, customers, finance, and workforce. Atop these platforms, Monsanto creates software product roadmaps and offers digital agronomic advice services. Swanson says it's fair to view Monsanto's IT department as a software development company. "We had to reorganise to be able to offer all of that," Swanson says.
Instituting that new digital operating model has given Monsanto a foundation on which to tackle machine learning projects, Swanson says. In one scenario machine learning algorithms analyse plant genotypes and phenotypes to determine whether they have good leaf and root structure, suggesting they could produce a better harvest. Monsanto also uses machine learning to analyse plant and leave structures for diseases. "For us, that's really important because then we can provide a diagnosis and treatment," Swanson says.